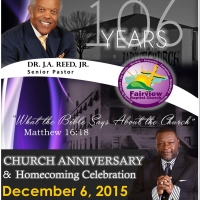 Fairview 106th Church Anniversary & Homecoming
By M. Patterson | November 9, 2015
Fairview Missionary Baptist Church will observe its 106th Church Anniversary and Homecoming on Sunday, December 6. The theme for the occasion is "What the Bible Says About the Church," Matthew 16:18.

The day will begin with Sunday School at 8:30 a.m. At 10:00 a.m., the Fairview family and the Tabitha Baptist Church family will come together for joint worship. Tabitha Pastor J. L. Mitchell, a son of Fairview, will bring the message and Tabitha's choir will sing. Fairview members, aged 85 and up and those with 50 plus years membership, will be recognized.

The day will end with the Homecoming fellowship dinner immediately following the services. All members and guests are encouraged to share in the dinner.

Dr. Reed and Anniversary Chairperson Ron Coffey are urging all members, active and inactive, former members and the community to come and be a part of this year's church family reunion. The goal is to pack the house, rekindling old friendships, restoring relationships and receiving new memberships.

Fairview is located at 1700 N. E. 7th Street in Oklahoma City. For more information, call the church at 405-232-1621, email communication@fairviewokc.com or visit the church website at www.fairviewokc.com. Those needing transportation should call or text 405-471-9494.

Back