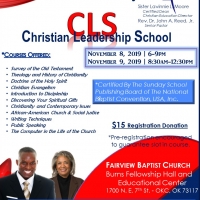 Fairview Fall Christian Leadership School (CLS) Scheduled
By M. Patterson, Director; FBC Communications Ministry | October 22, 2019
Registration is now open for Fairview Baptist Church's Fall Session Christian Leadership School (CLS). The school, which will be held November 8 - 9, 2019, has been approved and certified by the Sunday School Publishing Board (SSPB) of the National Baptist Convention, USA, Inc. (NBC, USA, Inc.).

The school will be in session Friday night from 6:00pm-9:00p.m. and Saturday from 8:30a.m.-12:30.
Courses offered are: Survey of the Old Testament, Theology and History of Christianity, Doctrine of the Holy Spirit, Christian Evangelism, Introduction to Discipleship, Discovering Your Spiritual Gifts, Christianity and Contemporary Issues, African American Church and Social Justice, Writing Techniques, The Computer in the Life of the Church, and Public Speaking. The church nursery will be open during the school.

Registration can be completed online with the option to pay online through the church website, www.fairviewokc.com. Onsite registration will begin. on Friday evening at 5:30 p.m. Donation is $15.00 per course. Pre-registration is encouraged to ensure admission in the desired course. Additional information, i.e., course descriptions, school schedule, etc., is available on the church's website.

The church is located at 1700 N. E. 7th Street, Oklahoma City. Lavinnie L. Moore, Oklahoma Baptist State Congress and East Zion Consolidated District Association Congress of Christian Education Dean, is Fairview's Christian Education Director and will serve as Dean for the CLS. Dr. John A. Reed. Jr., NBC, USA, Inc. - Western Region Vice President is Senior Pastor at Fairview.

Specific questions can be directed to Dean Moore at 405-388-1419 or by email at lmoore817@att.net.

Back