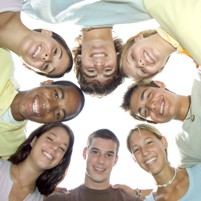 College Connections -- The purpose of the College Connection Ministry is to keep in touch with our students as they graduate from high school and go off to college, to a technical school or to the military services. This is a very crucial time in a young person's life and we, as a church family, must stay in close contact with our youth to encourage them to stay close to the Lord during their college/university experience.
Because many of our students attend colleges and universities outside the state and city of Oklahoma, two socials are held, one in January (during Christmas break) and the other in August (during summer break) to allow students to fellowship together.
Each Children/Youth Ministry has been assigned a college student to keep in contact with throughout the year. This is to let the students know that their church family is praying for and thinking of them.