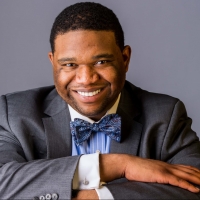 Noted Opera Singer Kickoff Fairview's Black History Month Celebration
By T. Hill, Director; FBC Black History Ministry | January 6, 2020
Notable opera tenor, Mr. J. Warren Mitchell, will be featured in concert at Fairview Baptist Church, 1700 N. E. 7th Street in Oklahoma City, on Thursday evening, January 23, 2020, 7pm. The event is sponsored by Fairview's Black History Ministry and will launch the church's Black History Month celebration, commemorated in February 2020.

The concert will help hundreds of youth gain free access to a world renowned African American Singer in classical music, promote self-esteem, and increase awareness regarding Careers in Arts Education. It will be a great opportunity to help promote free community programs for youth, to honor outstanding community leaders, and provide scholarships to youth attending Langston University in the future.
"I truly believe that it is important to expose the next generation to the Arts and inspire them to do something greater than themselves," stated Dr. J.A. Reed, Jr., Senior Pastor of Fairview Baptist Church.

Warren is a member of Fairview Baptist Church and serves as a staff member of Fairview's Music and Fine Arts Ministry.

A native of Montgomery AL, Mitchell was awarded the Bachelor of Vocal Music Education degree from Auburn University (Auburn, AL) and the Master of Music degree in Choral Conducting from Oklahoma City University (Oklahoma City, OK).

Mitchell is a lyric tenor, now venturing into the world of international opera. Being a former choral conductor and music educator, J. Warren realized a career in opera was possible when he entered to compete in the Metropolitan Opera National Council Auditions. In 2011, he won the Trudy Oliphant Sundgren Young Singer Encouragement Award. Returning the following year, he was named a district finalist and a 2nd place Midwest regional winner. This early success gave him the encouragement to resign from his conducting position and pursue a career in opera.

"My Mission is to share my gifts with children and the world. Oklahoma City University inspired me to share the magic of Opera and be a role model for those who desire to train their voices," remarked J. Warren. "It's my pleasure to bring Classical Music back home."

Hailed by the Ruppiner Anzeiger as "The New, Young Pavarotti," American-born lyric tenor J. Warren is an emerging star in the opera world. He has captivated audiences in the U.S. with "those juicy tenor sounds and a winning smile…"(OperaWire.com) and a voice that "can trumpet notes and make extraordinary throbbing sounds hearkening back to a golden age when gods like (Giuseppe) di Stefano still roamed" (OperaWire.com). In Germany, he has ensnared critics who have described him as possessing an "unbelievable tenor voice full of power and passion…" (Ruppiner Anzeiger). German critics have also praised J. Warren's tenor voice as possessing "Glittering high notes with lyrical brilliance, technically perfect, seemingly effortless in the variation of vocal colors" (Deutschlandfunk).

"This Classical Concert is a great opportunity for children of color to experience the joy of learning how their talents can take them beyond our local community," Teresa R. Hill, Black History Ministry Director.

Fairview's February 2020 Black History Month Calendar will include Patricia F. Reed Red Heart Day (February 2), Langston University Day (February 9), Fairview Youth Scholarship Sunday (February 16), and The John A. Reed, Jr. "Spirit of the Community" Awards Ceremony (February 23). These recognitions will be held in conjunction with the church's 10am Morning Worship Service.
For detailed information and updates, visit the church website, www.fairviewokc.com, or contact the church office at (405) 232-1621.
Back