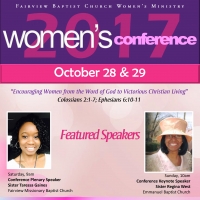 Women's Conference Scheduled at Fairview
By M. Patterson, Director; FBC Communications & PR Ministry | October 10, 2017
The Women's Ministry of Fairview Missionary Baptist Church will hold Women's Conference 2017 on Saturday, October 28, and Sunday, October 29. The theme is "Encouraging Women from the Word of God to Victorious Christian Living," Colossians 2:1-7; Ephesians 6:10-11. Featured speakers at the Conference will be Sister Taressa Gaines of Fairview and Sister Regina West of Emmanuel Baptist Church, Oklahoma City.

Saturday's agenda will begin with registration at 8:30 a.m. in the vestibule of the main sanctuary. Registration for Fairview women is $25 and guests can attend at no cost. The registration donation includes lunch and Conference materials.

The Conference will begin at 9:00 a.m. The featured speaker for Saturday's session is Sister Taressa Gaines. Sister Gaines serves as Director of Fairview's Discipleship Ministry and is active in other Ministries of the Church. At the age of 17, Taressa enlisted in the Oklahoma National Guard, and is currently a Major in the armed forces. She is employed at Community Health Centers of Oklahoma, which provides medical and dental care to the patrons of Oklahoma.

The Conference will end on Sunday morning with the attendees sharing in 10:00 a.m. Worship. Sister Regina West will be the Morning Worship Speaker.

Sister West is a native of Oklahoma City. She is active in various Ministries at Emmanuel, serving as Sunday School Teacher, Women's Bible Study Teacher, and a member of the Discipleship Ministry, the United Women Mission Ministry, and the Adult Choir. Additionally, she is Chaplain of the Baptist Ministers Wives and Widows Club, Inc. She is involved in the District, State and National level of the National Missionary Baptist Convention of America, Inc. Sister West is First Vice President of the Ministers Wives and Widows Auxiliary of the National Missionary Baptist Convention of America, Inc.
Regina is a member of the ETA PHI BETA Sorority, Inc. She retired from the Federal Aviation Administration (FAA) with over 26 years of service in Supply Chain Management.

Breast cancer survivors and senior women (age 70 and over) will be recognized during the Conference. Attendees are asked to wear shades of pink.

The event is open to the public. Those needing childcare are asked to email info@fairviewokc.com with their request.

Fairview is located at 1700 N. E. 7th Street in Oklahoma City. Sister Marcy Turner serves as Women's Ministry Director and Dr. John A. Reed, Jr. is Senior Pastor.

For additional information, call the church at 405-232-1621 or visit the church website at www.fairviewokc.com.
Back