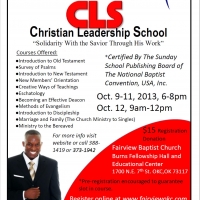 Christian Education Courses Offered at Fairview
By M. Patterson | September 29, 2013
Fairview Baptist Church, located at 1700 N. E. 7th Street in Oklahoma City, is holding its Fall Christian Leadership School (CLS) the week of October 9-12, 2013. The theme is "Solidarity with the Savior through His Work," Matthew 5:16, John 10:32, Titus 2:14 and Hebrews 13:20-21. The school has been approved and certified by the Sunday School Publishing Board (SSPB) of the National Baptist Convention, USA, Inc. (NBC, USA, Inc.).

Classes will meet nightly, Wednesday through Friday, from 6:00-8:00 p.m., and Saturday from 9:00 a.m.-12:00 p.m. in Fairview's Donald Burns Educational Center and Fellowship Hall. Rev. Dr. J. A. Reed, Jr., Senior Pastor at Fairview and Vice President of the Western Region, NBC, USA, Inc., will be the lecturer for Saturday's session.

The school is open to anyone interested in furthering their Christian Education or earning course credit toward certification through the SSPB.

Courses offered are: Introduction to Old Testament, Survey of Psalms, Introduction to New Testament, New Member's Orientation, Creative Ways of Teaching, Eschatology, Becoming an Effective Deacon, Methods of Evangelism, Introduction to Discipleship, Marriage and Family (The Church Ministry to Singles), and Ministry to the Bereaved. A complete list of courses, course numbers and instructors are available on the church's website at www.fairviewokc.com.

Registration is now open and can be completed through the church website. Donation is $15 per student. Pre-registration is encouraged to ensure admission in the desired course. Classes will be assigned on a first come, first served basis.

The leadership of Fairview, as well as the staff for the CLS, endeavors to do its best in providing learning opportunities to help individuals grow spiritually and in their work and witness in the world for Christ.

Sister Moore Lavinnie Moore is Fairview's Christian Education Director, Sister Manilla Fields serves as school Registrar and Rev. Gregory Rogers, Dean of the East Zion Consolidated District Association Congress, is CLS Dean.

For further information, contact Sister Moore at 405-388-1419 or visit the church website at www.fairviewokc.com.

Back