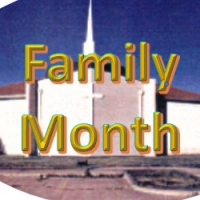 Fairview Celebrates the Family During the Month of September
By M. Patterson, Director; FBC Communications & PR | August 28, 2019
Dr. John A. Reed, Jr., Senior Pastor at Fairview Missionary Baptist Church, has declared the month of September as Family Month. Emphasis will be placed on the family throughout the month through Gospel proclamation, study periods, and various events.

Each Sunday's agenda will include breakfast at 8:00 a.m., Sunday School Study Groups at 8:30 a.m. and Morning Worship at 10:00 a.m. The Wednesday and Sunday Bible Study topic for the month is "The Practice of Forgiveness in Family Relations," Luke 17:1-4. Other specific programs are listed.

The month will begin with "Back to Church" Sunday on September 1. This mass evangelistic effort is in unification with National Back to Church Sunday, which is observed on September 15, and will utilize the theme, "Let's Do This Together." A special appeal is made to all Fairview members, active and inactive, as well as others of the community without a church home, encouraging them to be in attendance on September 1. Dr. Reed will preach a special message on the family for 10:00 a.m. worship.

September 8 is Grandparent Day. A special tribute will be paid to grandparents with a program during the Sunday School hour. Guest preacher for the 10:00 a.m. worship period will be Rev. Kevin L. Pullam, Pastor of Pleasant Mt. Gilead Baptist Church, Ft. Worth, Texas.

Sunday, September 15, is designated as Senior Saints Day. Senior members, 60 years of age and over, will be recognized. There will be reserved seating during Morning Worship and Pastor Reed will be the morning preacher. Lunch will be served to the Senior Saints in the Burns Fellowship Hall and Educational Center immediately following worship.

The Annual Family Life Retreat is September 20 – 22 and will include a barbeque, Singles and Married Couples group sessions, a day trip to Tulsa with an overnight stay option, and other agenda options. The theme for the Retreat is "Maintaining Our Biblical Integrity as Christians While Living in a Crumbling and Compromising Culture" (Romans 12:2). Conference session facilitators are Rev. Chester and Mrs. Regina West (Couples) and Rev. L. Mike Woodberry (Singles). Details on the retreat are available on Fairview's website or by contacting Ministry Directors Larry or Cora Epps at 405-326-5270.

Annual Family Day is Sunday, September 22. Rev. Anthony "Tony" Rhone, a Son of Fairview and Pastor of Galilee Baptist Church, Shawnee, will be the preacher for the 10:00 a.m. worship period. All members are asked to rally their family members and friends to come and share together in worship.

All Family Month activities are open to the community. Fairview is located at 1700 N. E. 7th Street in Oklahoma City. For more information, call the church office at 405-232-1621. Further details and schedule updates will be posted on the church website at www.fairviewokc.com.

Back