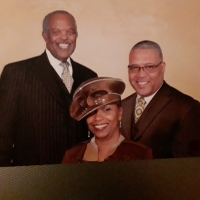 Fairview Church Family Celebrates Its Pastoral Leadership
By M. Patterson, Director; FBC Communications & PR Ministry | February 26, 2020
The Fairview Missionary Baptist Church Family will pay tribute to the Pastoral leadership of the church during the month of March. Senior Pastor Dr. John A. Reed, Jr. is being recognized for 57 years of service and the Assistant Pastor, Rev. Derrick E. Walter, Sr., along with his family, is being recognized for eight years. The theme for the occasion is "Men Created for Good Works," Ephesians 2:10.
Worship celebrations will be held on Wednesday nights, March 4, 11 and 18, and Sundays, March 8, 15 and 22, 2020.

Guest churches and pastors for Wednesday, March 4, are: Greater Mt. Olive Baptist, Rev. Ray Douglas; New Union Baptist, Dr. Kelly Booker; and Greater New Zion Baptist, Rev. Kenneth Sherrill. Rev. Ray Douglas will bring the message. Service will begin at 7:00 p.m.

Sunday night, March 8, at 6:00 p.m. is View Sundays. This contemporary worship service, traditionally hosted by the youth and young adults of Fairview, will lend way to showing appreciation to the Pastoral leadership. Bishop Broderick Huggins and the St. James Missionary Baptist Church, Wichita, Kansas, will be special guests. St. James Music Ministry will be singing, and Bishop Huggins will bring the message. Dress for the service is church casual. Consistent with the evenings theme, "White Out," worshippers are asked to dress in white.

Services will continue Wednesday night, March 11, at 7:00 p.m. Guest churches and pastors are: New Hope Baptist Church, Rev. E. Jennings Tyson; Prospect Baptist, Rev. Lee Cooper; Greater Shiloh Baptist, Rev. Orlando Black; and Unity Baptist, Rev. L. Mike Woodberry. Rev. Tyson will bring the message and the invited churches will provide the music.

Sunday, March 15, Rev. Reginald C. Payne, Pastor of Full Gospel Baptist Church, Los Angeles, California, will be the guest preacher for the 10:00 a.m. worship hour. Fairview's Music Ministry will sing.

On Wednesday night, March 18, Rev. Ricky Patton, Pastor of Holy United Life Changing Church, will be the preacher for the 7:00 p.m. worship service. Other guest churches and pastors include Ebenezer Baptist, Rev. Derrick Scobey, and Northeast Missionary Baptist, Rev. Michael McDaniel. Music will be by the guest churches.

The celebration will end on Sunday, March 22. Guest churches for 10:00 a.m. morning worship will be Central Baptist, Chandler, Rev. James E. Reed, Sr., Pastor, and Loving Mt. Calvary Baptist, Muskogee, Rev. Gary Hall, Pastor. Rev. James Reed will bring the message and Central and Mt. Calvary choirs will sing. Immediately following morning worship, the Church Family will have a special portrait dedication ceremony in the Fellowship Hall as a tribute to Senior Pastor John Reed, Jr., and the late First Lady Patricia F. Reed.

Afternoon worship will begin at 3:00 p.m. Churches and pastors scheduled are: St. John Missionary Baptist, Dr. Major Jemison; Emmanuel Baptist, Rev. Chester West; Tabitha Baptist, Rev. J. L. Mitchell; Greater Bethel Baptist, Rev. Teron Gaddis; New Hope Baptist, Chickasha, Rev. Al Walter; Galilee Baptist, Shawnee, Rev. Anthony Rhone; Central Baptist, Rev. James Reed, Sr.; and Loving Mt. Calvary, Rev. Gary Hall. The afternoon message will be brought by Dr. Jemison and visiting choirs will sing.

The community is invited to join with Fairview in showing love and appreciation to these servants. Sister Evalia Darling is Anniversary Chairperson and Sister Patti Brown is Co-Chairperson.

The church is located at 1700 N. E. 7th Street in Oklahoma City. For additional information, call the church office at 405-232-1621, or visit the church website at www.fairviewokc.com.
Back