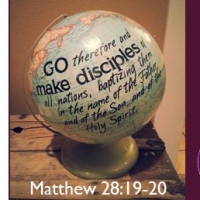 Fairview Baptist Church Focus on Evangelism; Observes National Evangelism Day
By M. Patterson, Director Fairview Communications & PR | August 6, 2019
Dr. John A. Reed, Jr., Senior Pastor at Fairview Missionary Baptist Church, has designated August 2019 as Evangelism Month at Fairview. The theme is "Making Disciples," Matthew 28:19-20. All preaching and Bible study during the month will be centered on The Great Commission.

Fairview's mass evangelism push is in conjunction with National Evangelism Day, recognized by churches of the National Baptist Convention, USA, Inc. (NBC) on August 18. Dr. Jerry Young, President of NBC has asked that each church of the NBC would set aside August 18 and place emphasis on Evangelism. It is Dr. Young's desire that each pastor will preach a Gospel message centered around Evangelism.

Dr. O. K. Patterson of Missouri is NBC Evangelism Chairman, and Rev. Manuel Scott, Jr. of California is NBC National Evangelist. Dr. John Reed is Vice President for the NBC Western Region, which includes the state of Oklahoma.

"I made the decision to have our church focus on Evangelism for all of the month leading up to National Evangelism Sunday," stated Pastor Reed. "We all are aware of the fact that the church has many tasks, but only one mission. That mission is Evangelism," he continued. "We should all be witnessing on a daily basis, but I'm asking our members to put forth a conscious effort during our Evangelism Crusade to be a part of our church-wide street witnessing on Saturdays at 11am and, as they move about from day to day, to take advantage of the opportunity to witness for Christ. If every member lead at least one soul to Christ, we can reach our goal – Each Saved Soul Win One Lost Soul."

The goal is for 300 souls to be saved, backsliders reclaimed, and the unchurched linked to and received into a Bible believing church by Evangelism Sunday. Rev. Cleo McGlory, Evangelism Minister at Fairview, is leading Fairview's Campaign.

The Crusade will come to a close with an Evangelism Pep Rally at the church on Saturday morning, August 17, and a mass, church-wide evangelistic sweep of the area, followed by Victory Sunday on August 18. "We're going to raise the roof on Victory Sunday, praising God for the victory!" says Dr. Reed. "I will be preaching a special message during 10am Morning Worship and we invite the entire community to join us for the celebration," he concluded.

Fairview is located at 1700 N. E. 7th Street in Oklahoma City. More information is available on the church website, www.fairviewokc.com, or by calling the church at 405-232-1621. For transportation, call or text 405-471-9494.

Back